Description
The M-1001 Freedom HD mask is the latest design to come from Freedom Technology. It is a single lens masks with an incredibly wide field of vision. This mask boasts a 180° Rotational Buckle System, which allows it to fit a variety of face sizes while maintaining a low profile.
Freedom Buckle [Pat. P]
The Five (5) Angle Strap Adjustor rotates a full 180 degrees and allows for micro-adjustments, which accommodates varying head sizes while reducing face pressure, maintaining optimum fit, and preventing unnecessary damage to the buckle.
5 Step Variable Strap Adjuster Function

By fixing the angle of the strap in five (5) stages on the left and right from the upper position to the lower position, it is possible to micro adjust varying pressure points of the mask seal.
Vertical Axis Rotation Function

The buckles move inwards and outwards, so the straps fit perfectly to people with large or small faces. The folding buckles make the mask compact for carrying.
Metal Parts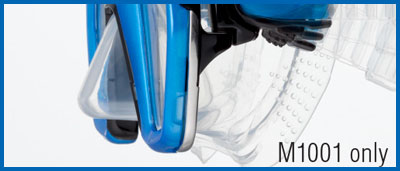 Stainless steel allows for a slim design while providing stability and security.
TUSA's Freedom technology is a set of revolutionary features offering superior fit, comfort and increased performance in TUSA masks.   Freedom model masks feature a dimpled skirt surface with varied silicone thickness and stability ridges in addition to a proprietary low-friction skirt surface on the fitting line.
The Panoramic View masks feature a variety of designs offering an incredibly wide field-of-view. Several designs incorporate minimum frame volumes, domed side-windows, reduced frame structures as well as three and four window styles for maximum vision. The buckle also rotates a full 180 degrees to accommodate varying head sizes for optimum fit. The thin frame and rotation of the buckle allows the mask to be folded into a compact size.
TUSA's Quick-Adjust Buckle System incorporates a newly-designed low-profile buckle into the crystal silicone skirt of the mask. The result is a compact, lightweight, technologically advanced mask design that can be easily and quickly adjusted for a perfect fit.
Key Features
Incredibly wide field of view
180 degrees Rotational Buckle System
Large frame with minimal internal volume
Five-position strap angle adjuster for micro-adjustment
Round-edge skirt
3-D mask strap
Colors: Black, Cobalt Blue, Fishtail Blue, Flash Yellow
Black Silicone: Black, Bronze, Fishtail Blue, Metallic Dark Red